What is an AR pistol?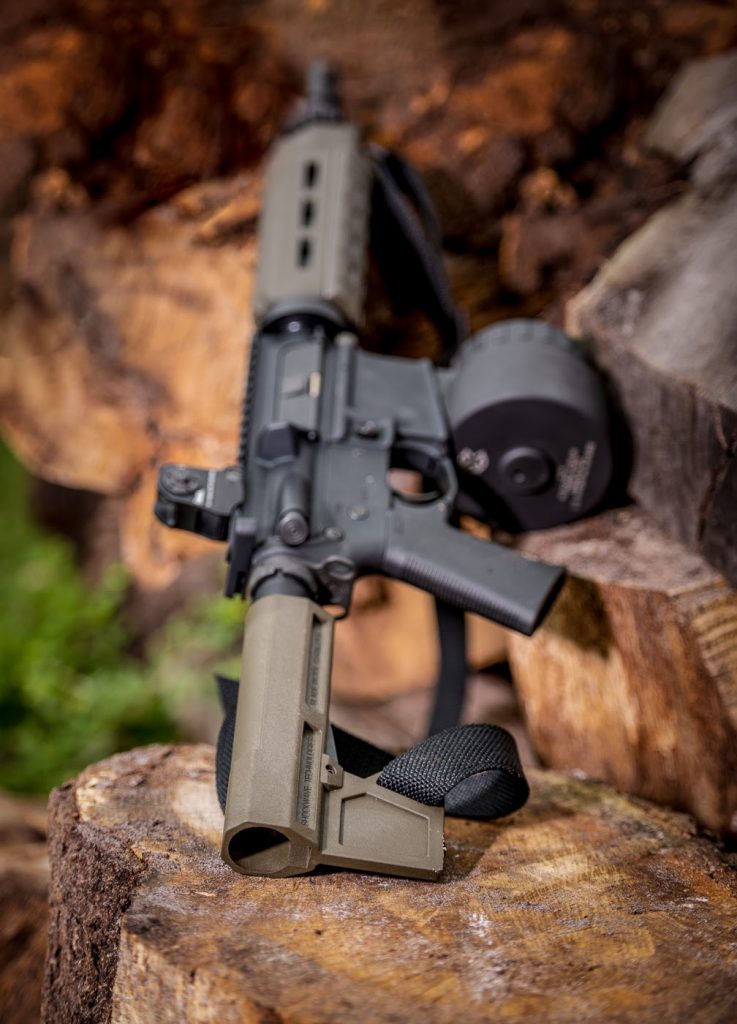 While an AR-15 pistol has a similar makeup as an AR-15 rifle, there are a few differences that classify it a "pistol." To be exact, the barrel's typically shorter than 16 inches, you can't put a vertical forend grip on it, and you can optionally have a pistol brace on your firearm. 
Why would you want an AR pistol? 
Gun enthusiasts love shooting semi-automatic AR pistols for entertainment and target practice, but it can also be a great firearm for personal and home defense. However, many gun owners prefer a shotgun or a Mossberg 590 Shockwave for home defense.
Modern AR firearms are lightweight, durable, and easy to use. As long as it adheres to gun laws, AR owners can also customize their firearm how they see fit—from color choices to barrel lengths and accessories.
Evolution of the AR:
There's a bit of history to tap into when it comes to understanding how the AR pistol became such a hit. Many consider AR firearms "American." But looking into the subject deeper, its roots actually go back to the M1 Garand, which was a rifle designed by a French-Canadian. An unlikely candidate, eh? Back in the 1930s, John Garand was hired by the U.S. Springfield Armory to design guns. His .30-06 caliber, gas-operated, semi-automatic rifle was eventually adopted as the official U.S. infantry rifle used in action — including WWII and the Korean War. By 1938, the M1 Garand was mass produced and delivered to the Army for battle. After WWII, most M1 Garand rifles were put away into storage or loaned to allies fighting in battles, but as new wars sprouted (including when North Korea attacked South Korea in 1950), the M1 Garand started going back into production until 1957. 
But things started to shift in the 1950s when the AR-10 was born. Eugene Stoner, a former Marine and Army Ordnance technician, helped design that firearm out of aircraft-grade aluminum, allowing for a mere 7- to 9-pound weapon that would be beneficial for soldiers constantly carrying around their firearm for protection and battle. This new infantry rifle design also had a larger capacity magazine and select-fire capability. 
Despite popular belief, the "AR" stands for ArmaLite Rifle, not "assault rifle" or "automatic rifle." ArmaLite is a firearms engineering company based out of California and where the AR-10 name derives. This firearm was built as a magazine-fed, gas-operated rifle firing a 7.62mm bullet. By 1960, a scaled-down version, firing the 5.56mm cartridge, started making its way through the military world. However, ArmaLite's lack of successful firearm sales led them to sell the design to Colt's Manufacturing Company, and the U.S. Military hired Colt to start pushing out loads of a full-auto version, designated the M16, to soldiers fighting in Vietnam. 
Not long after, Colt released a semi-automatic AR-15 version—the SP1—to the public for purchase, and sales have continued to boom. Today, there are millions of Americans who own AR-15s and there are over 150 manufacturers of AR parts. 
Because of the continued popularity of the AR firearm in households, many manufacturers, sellers, and even gun owners are influencing the evolution of the AR. 
Several years ago, the creator of the Shockwave Blade was inspired to create a smaller, lighter, more-affordable pistol brace. The Shockwave Blade® Pistol Stabilizer is veteran designed, engineered, marketed, and sold in the U.S. It's made from high-strength glass-reinforced polymer, manufactured to exacting tolerances, and fits all pistols equipped with a standard AR-15 pistol buffer tube (up to 1.25? in diameter). Just slip it on and tighten the large set screw for a rock-solid installation. The Blade 2M, Shockwave's newest Brace, is designed to fit any standard mil-spec carbine buffer tube and adjusts with a simple trigger lever.
Shockwave's pistol blade stabilizer is also ATF approved for pistol use. Although it's illegal (and a felony) to have a stock on an AR pistol function without ATF approval and a tax stamp, there are many foreign firearm sellers online trying to scam gun owners into buying illegally produced products and fakes. When you buy directly from Shockwave, you can ensure to receive American-made, ATF-approved products for your firearm.
What are the laws of owning an AR pistol?
Before we get into the nitty gritty of gun laws, you should refer to your official state and local gun laws for legal advice. You can also contact the ATF (Bureau of Alcohol, Tobacco, Firearms and Explosives) for more information about the AR pistol.
But for general info about this firearm, keep reading.
Most states allow you to own an AR pistol. But again, it's important that you confirm your state and local laws to ensure you can own one before you start pulling out your wallet. Illegally owning an AR in areas where it's prohibited could cost you more than your hard-earned money — it could cost you your freedom. 
As previously mentioned, there are a few rules that qualify an AR pistol barrel for legal ownership. The barrel can be shorter than 16 inches, you can't have a vertical foregrip (it can be a handstop or angled foregrip), and you can have a pistol brace on your firearm to comply with AR gun ownership laws. The ATF does pay attention to the general length of an entire firearm, too. If a firearm is over 26 inches long with a barrel shorter than 16 inches long, it can have a vertical foregrip (but not a rifle stock).