Here's the unfortunate truth: online scams, counterfeits, and con artists have been on a rising rampage — especially during COVID-19. 
And this applies to firearm sales, too. 
At Shockwave Technologies, we want to ensure our customers are protected from buying into these scams and frauds. We're proud to have all Shockwave products (truly) made in America and strive to support local businesses every chance we can. But unauthorized fake products coming in from other countries threaten our economy and swindle gun buyers into purchasing low-quality (or illegally made) products without them realizing it. 
Let's take a look at a few steps gun buyers (like yourself) can take to prevent being swindled and combat this "dark side" of purchasing guns and gun parts, both online and in the store. And specifically, how to ensure you're getting a genuine Shockwave product.
Do your due diligence.
If you're buying a true Shockwave product, you're paying for a top-quality product that is built on ethical standards. Don't let scammers take advantage of you by taking your hard-earned money and giving you a fake item. And not just fake — a poorly built or illegally-made item, too. So it's essential to do your due diligence and ensure a product has all the right components of a true Shockwave product. 
Let's take a look at what makes a product fake, why it's important, and a checklist of things you need to look for.
What makes a product fake?
Fake products are anything that's claimed to be something that it's not, from designer bags to collector items and everything in between. Some gun dealers falsely claim the Chinese-made products they are selling are Shockwave products, made in America, and ATF approved. Genuine Shockwave products are truly made in America and ATF approved.
Why does it matter?
Think about it — if you pay $100 for a fake product that is normally $200 for the real product (for example), you didn't save money at all. You just wasted $100 on something that is low quality, likely illegally made, potentially dangerous for you and/or your firearm to use, and won't give you the product experience you think you're getting with the real product. Giving even one dollar to a false manufacturer or dealer is supporting their scam and keeping them in business to continue growing and scamming gun buyers with their fake products. 
These unethical dealers not only rob ethical, American-made companies from providing the real deal to everyday guy buyers, but they rob their own customers by tricking them to spend their hard-earned money on a counterfeit product. If you're going to pay hundreds, if not thousands, of dollars for a gun and gun parts, you deserve to get the real deal. 
Diligently examine the products you plan to purchase with the intent of finding a red flag. If you don't find an immediate red flag, follow the checklist below. It's better to be a skeptic going into purchasing expensive, dangerous products than it is to assume it's legitimate.
How to make sure you're getting a genuine firearm product:
Does the price sound too good to be true? Then it probably is. The price of the gun or gun part should be reasonable and comparable. Huge discounts on high-end products, items that are highly underpriced from the average cost, or advertisements that push a major sense of urgency with a great deal (i.e. "one time only") tend to be scams and counterfeits. 



Is the dealer reputable and established? Check out their return policies, secure payment options, and make sure you'll get a descriptive receipt. You can look at their FAQs, policies, and terms of purchase to understand what's guaranteed. Here's an example of this information that

Shockwave

provides. Be skeptical if you read passive words like "probably," "in the style of," or "type." 



Is there a serial number on the gun? Or a patent number on the Shockwave gun part? There should be. If there isn't one, be skeptical. But how do you know if it's a bogus number? You can check out Google's

Advanced Patent Search

to determine if a patent number is real, and

HotGunz

to look up a gun's serial number to determine if it has been stolen or a fake.


Are there multiple photos of the gun? The best sellers and dealers will post multiple photos, including close-ups. Make sure the photos don't look Photoshopped or altered. 


Is there a detailed description? A complete description that shows all details of the product for sale is important for making sure all information is accurate. 



Is there a secure payment method accepted? Do not use PayPal or a PayPal-affiliated platform, as they have banned firearm sales and will seize your transaction funds if you try to use it. Money orders and checks are a scammer's preferred way to get paid because it's untraceable and makes it easy to steal information for identity theft. The best bet is to pay securely via credit card.


Channel your inner detective.
Following the provided checklist is an important method to ensure you purchase a genuine product. But let's walk through a couple actual fake copycats of Shockwave products and show you how to play detective.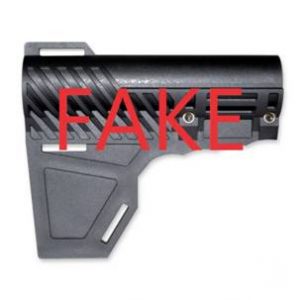 This is a Chinese product that sold lookalike counterfeit items labeled as "Blade" — but don't worry, we got them shut down. The item claimed to be a Shockwave Blade, but it was a fake.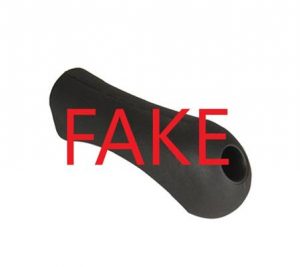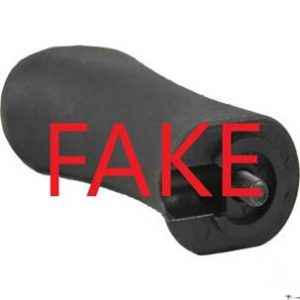 These items are still being sold and marketed as a Raptor grip, but don't be fooled — this is no raptor grip. It is yet to be determined who is making these but they falsely claim to be a Raptor grip. 
They also claim these products are made in America, but that is yet to be determined. These items are counterfeit because they have no plug for the bolt hole and are not made by Shockwave Technologies or used by the Mossberg or Remington firearms.
When it comes to our Blades, it is especially important that consumers have a brace that is ATF approved for pistol use. We have found some very interesting ones on the market that are alarmingly fake (and ugly, if we might add).
New Shockwave Blades are labeled with our patent number. Grips have the Shockwave Technologies name on it and a plug in the back. 
Contact Shockwave directly to confirm.
Contact Shockwave Technologies directly to confirm that the site or product you are buying from is reputable and accurate. It also lets us know who else is out there trying to scam our customers into spending their hard-earned money on fake products. 
We continue to work closely with anti-counterfeiting attorneys to protect our customers from being scammed and receiving a low-quality product. We won't let scammers continue to get away with it as much as we can help it. And you can help by letting us know if you come across a fake product being sold. 
Unfortunately, these scammers and counterfeit dealers are getting smarter every day. Even their packaging can look really similar to Shockwave's, but it's not from us. We invite you to help us combat these fake sellers and products by taking the steps we mentioned above, and let us know about it so we can work with our legal team to shut them down and protect our customers. 
All of these tips and tricks to ensuring you're getting a genuine product can be overwhelming, but we are here to help. 
If you're interested in buying a true Shockwave product, you can buy directly from us on our secure website or contact us if you have any questions.