The Big 80s Were Great! 80s Plastics Technology? Not So Much.
The Issues with Zytel Magazines
Nearly as much as has been written about the issues regarding Zytel magazines for the M-11/NINE guns as the guns themselves. The main criticisms were primarily that the plastic feedlips would wear out prematurely, leading to feeding unreliability, and that the magazine bodies would sometimes split open, which would add to feeding issues — or simply dump your ammo all over the ground.
The springs in Zytel magazines also tended to be quite weak. The springs lacked the strength necessary to tightly push the bullets up against the feedlips, which all too often led to cartridges "nosing down" into the magazine body and causing a jam.
That's When Shockwave Stepped In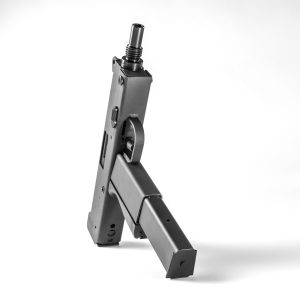 All these issues with the Zytel magazines created a demand for a better-designed magazine. That's when Shockwave Technologies entered the picture for MAC owners. Working with a team of American engineers who had decades of experience in sheetmetal stamping, we designed, prototyped, tested, and—in 2014—began manufacturing and selling our ZMAG 30. The 50-round version—the ZMAG 50—followed several months later.
Shockwave's ZMAGs are the perfect upgrade to liven up your M-11/NINE pistols and submachine guns. They're designed to last generations with their durable steel construction, feed flawlessly with their polymer followers and dependable Wolff springs, and look attractive all the while with their gorgeous Cerakote finish. The ZMAGs also feature witness holes, so you can see at a glance how many rounds you have on tap at any time.
Strong, lightweight, easy to load, and simple to disassemble, Shockwave ZMAGs are the last word in M11/NINE magazines.
Back-in-Stock Alert: Shockwave ZMAG™ 30
The metal 30-round Shockwave ZMAG for the Cobray M-11 (9mm and .380) is back in stock! Its 8.2 ounce weight and unbeatable design make it head and shoulders above competition.
Shockwave ZMAG 30 features include:
Mag stop is a go/no-go feature in our opinion. It prevents over-inserting a mag into your gun and bending your ejector rod, which can quickly ruin your day at the range.

Robust, high-reliability feedlips are designed for optimal ammunition feeding. If you have a feedramp that's out of spec, resolve your feeding issues once and for all with the super-reliable ZMAG.

Anti-tilt, low-friction polymer follower ensures the utmost in reliability.

Wolff spring improves feeding reliability.

Compatibility with the factory Cobray loader and the Butler Creek Uplula lets you easily load your ZMAGs using these very handy loaders.

Works with all stock designs, including the factory folding stock.

Ammo witness holes on the left side of the ZMAG allow you to see remaining ammo at a glance.

Optimally placed mag catch.

Rugged black Cerakote finish will protect your ZMAGs for decades to come.
The Shockwave ZMAG 30 fits and functions in all M-11 guns that originally shipped with the Zytel magazines:
SWD M-11/NINE Submachine Gun (9mm)

SWD SM-11/NINE Semi-Auto Pistol (9mm)

SWD SM-11/NINE Semi-Auto Carbine (9mm)

SWD M11-A1 Submachine Gun (.380)

SWD SM-12/380 Semi-Auto Pistol (.380)

LEINAD / FMJ PM-11/NINE AWB-Compliant Semi-Auto Pistol (9mm)

LEINAD / FMJ PM-12/380 AWB-Compliant Semi-Auto Pistol (.380)

LEINAD CM-11/NINE AWB-Compliant Semi-Auto Carbine (9mm)

LEINAD TM-11/NINE AWB-Compliant Thompson-Style Semi-Auto Carbine (9mm)
*ZMAGs are not available for sale in the following states/areas: CA, CO, CT, MA, MD, NJ, NY, and Chicago*