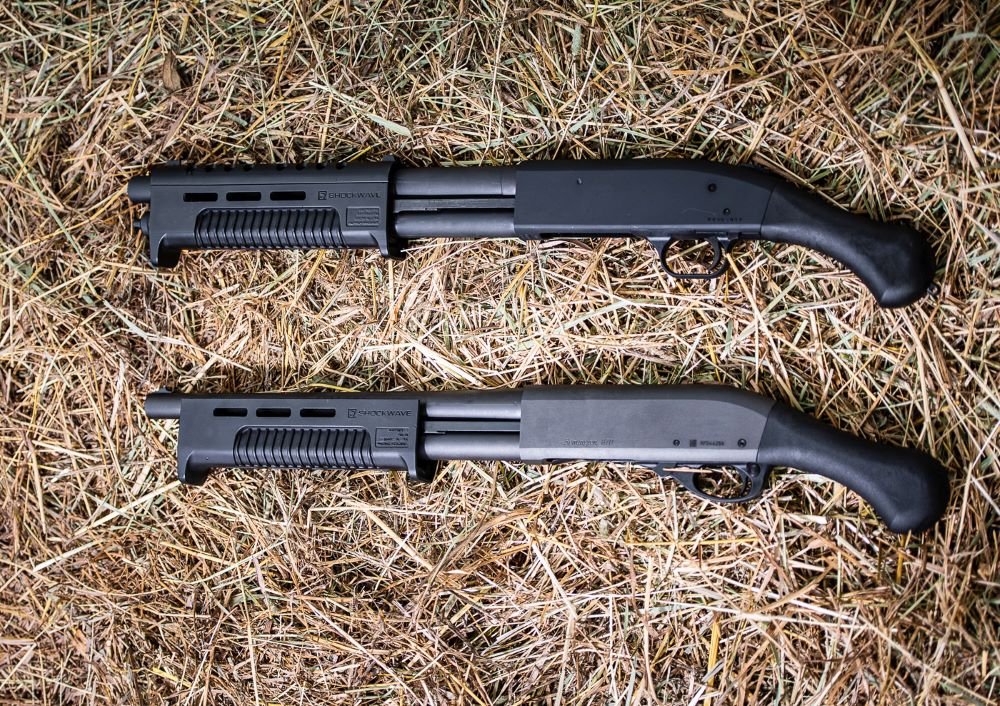 What does it take to innovate a stubby little firearm that shoots 12- and 20-gauge shotgun shells—that isn't classified as a short-barreled shotgun? A little creativity and a rebellious attitude to disrupt the firearms market. And that's exactly what Len Savage of Historic Arms did in the late 00s / early 10s. He came up with the whole idea of what many would later term the "not a shotgun."
Len Savage is first and foremost an American. He's also an incredibly smart firearms designer and businessman. He's been called as a subject matter expert on several high-profile trials that have involved the ATF (Bureau of Alcohol, Tobacco, Firearms, and Explosives). Because of his encyclopedic knowledge of firearms and the overwhelming, often-contradictory myriad of laws, orders, rulings, findings, letters, etc. that have come out of the ATF over the years, those cases never really worked out for the ATF. In other words, let's just say he's not exactly on their Christmas card list. 
Mr. Savage didn't make the rules. And he certainly doesn't break them. But sometimes he finds new solutions to meet the rules in unique ways that give firearms owners what they want while making things a bit more hassle-free for them. And that's what he did with the "not a shotgun" concept.
Such a firearm would allow buyers to make a quick purchase at their local dealer without all the extra paperwork and waiting on NFA tax stamps. Pricing could also be kept fairly low on such a simple firearm, making it a no-brainer for buyers looking for a compact yet powerful firearm for home defense.
Hearing about the "not a shotgun" idea in the early 10s, the founder of Shockwave Technologies contacted Mr. Savage and discussed plans for introducing a new birdshead grip for the Mossberg 500 and Remington 870 firearm families. As it turned out, the Raptor™ Grip's length was perfect for making the "not a shotgun" a reality with a 14" barrel, an overall length of over 26", and built on a receiver that had never had a stock attached to it. However, because of Mr. Savage's "history" with the ATF, he wasn't about to bring such a product to market. He didn't trust them. He loves his dog too much. And his freedom.
NFA Firearm vs Non-NFA Firearm
But maybe we're getting ahead of ourselves, so let's back up for a minute. Before we can get into what a "not a shotgun" (a.k.a. a non-NFA firearm) is, we should consider what makes an NFA firearm an NFA firearm—and requires an NFA tax stamp—in the first place. Because the definition is more about what it's not than what it is.
Regardless of the 18" barrel length rule, to be an NFA short-barreled shotgun (SBS), a firearm must first be a shotgun. Meaning, it has to be designed to be fired from the shoulder. Since the "not a shotgun" isn't designed to be fired from the shoulder, it can't be an SBS.
One of the key features of an NFA Any Other Weapon (AOW) is that it must be capable of being concealed on a person. And the ATF defines that capability as being less than 26" in overall length. Since the "not a shotgun" is over 26" long, it can't be an AOW either.
The NFA makes an exemption for firearms firing fixed shotgun shells. So it also can't be classified a Destructive Device (DD).
So what the hell is it? Simply put, it's just a firearm — one not subject to the NFA tax stamp requirements.
Shockwave Came into the Story
Shockwave Technologies began selling the Raptor Grip in 2011. The unique angle of the Raptor Grip minimizes felt recoil, allowing maximum control shot after shot. Small businesses and individual customers alike began buying the Raptor Grips and building their own "not a shotgun" creations. Len Savage enjoyed many long walks with his dog.
With the election of Donald Trump in 2016, you may remember that the firearms market took a bit of a nosedive. Manufacturers were looking for new, innovative products to boost sales. That's when Mossberg and Remington came knocking on Shockwave's door. And the rest is history, as they say.
With a short 14-inch barrel and the Raptor Grip, the Mossberg 590 Shockwave was the first to hit the market. Because it didn't feature a buttstock, wasn't intended to be fired from the shoulder, and was over 26 inches in overall length, the Mossberg 590 Shockwave was classified as a non-NFA firearm by the ATF.
The next up was the Remington 870 TAC-14. Similar to the Mossberg 590 Shockwave, the TAC-14 sported a 14-inch barrel, Shockwave Raptor Grip, and overall length of just over 26 inches. It too was found to be a non-NFA firearm by the ATF.
Since then, Mossberg has introduced versions of their 590 Shockwave in 20- and .410 gauges. Likewise, Remington has brought a 20-gauge version of the TAC-14 to market in recent years.
One of the newest innovations is the Remington V3 TAC-13. This unique non-NFA firearm is semi-auto, making it softer recoiling thanks to the Versaport gas system. It features a 13" contoured barrel, the Shockwave Raptor Grip with our new Shockwave QD1 cup. It's a bit more expensive than the other "not a shotguns." But it transfers just like any Title 1 firearm.
Build Your Own Shockwave
Did you know you can build your own "Shockwave"? 
If you own a Mossberg 500/590, Maverick 88, or Remington 870 (see which firearms are compatible) and, critically, it's never had a stock on it, all you have to do is install a Raptor Grip and 14" barrel on it. 
Of course, gun owners should be sure to check their state and local laws first to make sure a "not a shotgun" is legal in their area.  
Specifications of the Mossberg 590 Shockwave:
Type: Pump-action, non-NFA firearm

Gauge: 12, 20 or .410

Chamber: 3 in.

Barrel: 14.3 in.

Overall Length: 26.3 in.

Weight: 5.25 lbs.

Forend: Mossberg or add the

Shockwave Technologies Raptor™ F1 forend

Sight: Bead sight

Barrel Type: Cylinder bore

Capacity: 5+1 rounds

Price: $484

Manufacturer: Mossberg
Specifications of the Remington 870 TAC-14:
Type: Pump-action, non-NFA firearm

Gauge: 12 and 20

Chamber: 3 in.

Barrel: 14 in.

Overall Length: 26.3 in.

Weight: 5.6 lbs.

Forend: Remington or add the

Shockwave Technologies Raptor™ F1 forend

Sight: Bead sight

Barrel Type:  Cylinder bore 

Capacity: 4+1 rounds

Price: $465

Manufacturer: Remington
Specifications of the Remington V3 TAC-13:
Type: Semi-automatic gas operated, non-NFA firearm

Gauge: 12

Chamber: 3 in.

Barrel: 13 in.

Overall Length: 26.5 in.

Weight: 6 lbs.

Forend: Remington

Sight: Bead sight

Barrel Type: Cylinder bore

Capacity: 5 rounds

Price: $933

Manufacturer: Remington