When it comes to buying a gun, there are a few key questions you need to ask yourself before walking into a gun store and letting your emotions drive your purchase. It's crucial to do your research and prepare ahead of time with questions you want to ask the gun dealer before you pull out your wallet and walk out as a new gun owner.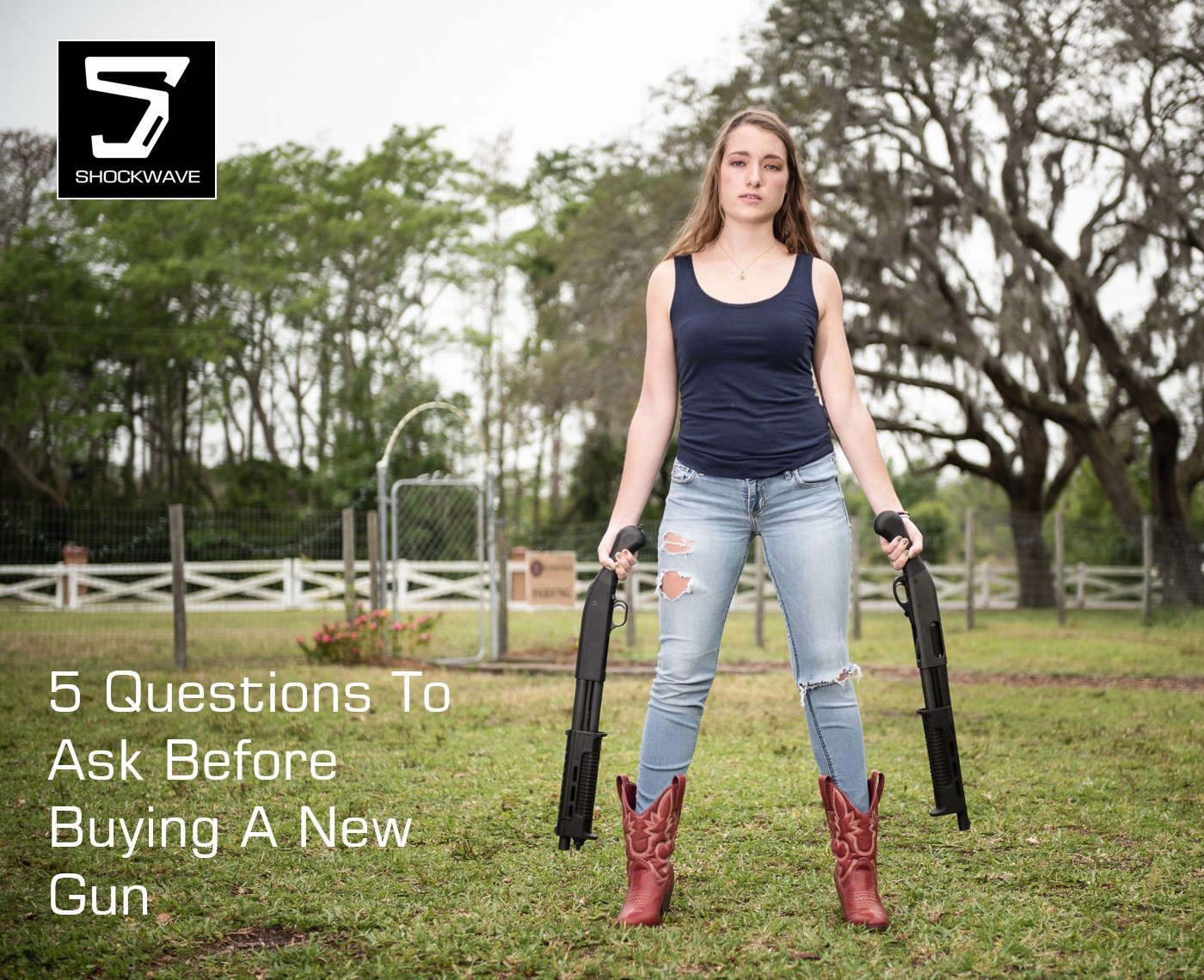 1) Why are you interested in buying a gun? 
Whether you're interested in buying a gun for sport, hunting, or personal defense, it's important to know why you plan to buy a gun and the type of gun you need, so you can prepare the right questions to guide your purchase. 
Once you determine the type of gun you want to buy, don't skip out on doing your research. If you want a firearm for home defense, you'll want to consider what makes the best home defense firearm and accessories. Is it an AR? Is it a shotgun? If you can't decide which one you need after doing your research, have your questions ready to ask the gun dealer to help you determine which firearm will work best for you.
As Off The Grid News puts it, you first "identify the purpose, and choose a [firearm] to fill that purpose."
2) Is it the right fit?
After determining why you need a gun and the type of gun you need, it's time to test out the ergonomics. When you go to your local firearm dealer, handling the gun and making sure it's a good fit for your hands is very important for safety, comfort, and accuracy. You'll also want to find out how much the gun recoils when fired, which is important to know depending on the firearm's purpose and how often you plan to use it. 
If you're not sure the gun is a good fit, there are a couple of options you can consider:
Find out if there is a local shooting range nearby that will let you test out the gun or rent the gun, so you can determine if it's going to be worth purchasing. 

Ask the gun dealer if they can help you find a gun that fits your hand properly. A gun that's too big is hard to hold onto. One that's too small may be harder to shoot accurately.

Check out our blog about Shockwave Raptor™ Grips and why ergonomics are important for firearm design. 
3) What's your budget?
Firearms can get quite expensive, so it's important to stick to a budget and choose one that will fit your purpose before buying a gun. Regardless of the price range of the firearm you're interested in, it's important to do your due diligence to know the right price for a specific model, know when someone is trying to oversell you, and know when a great deal comes along.
Don't forget to budget for other things that come along with buying a gun — from taxes, to background checks, to accessories, to ammunition, to permits, and more. Ask the gun dealer if there are any extra costs and fees involved. 
If you're pinching pennies to budget for a new gun or not confident about the gun you are considering, again, you might want to ask the gun retailer (or do your research) to see if there are any nearby shooting ranges that allow you to try before you buy.
If you are a veteran or first time buyer, you might even ask the gun dealer if there are any discounts, rebates, or sales going on that would benefit your purchase of the firearm. 
Lastly, check out the required firearm transaction record form to see if anything might disqualify you from purchasing a firearm. Focus on questions 11a-11i, 12, and 13 to determine this.
4) Which firearm accessories can you add on?
Whether you need home defense firearm accessories, want to accessorize for aesthetic purposes, or need maintenance kit items to keep your gun clean, don't forget to include these in your budget. The main accessories you want to consider are those that will enhance the experience, accuracy, and comfort of your firearm for its intended purpose. 
You'll also want to consider how you plan to store your gun. Firearm storage can be expensive, but an important way to keep your loved ones safe and keep it from being easily stolen. 
Lastly, for training purposes, it's important to have the accessories you need to protect yourself from misuse that could cause injury or worse. Find out where you can get basic safety training or safely practice shooting your gun to get used to it. You can even watch tutorials online to show you how to use the gun, what each function means, how it shoots, and so forth to prepare you for your training phase after purchase. 
Do your research and determine which accessories are important for your firearm of choice.
Examples of Shockwave Technologies and partner firearm accessories include:
View https://shockwavetechnologies.com to view all firearm accessories.
5) What are the firearm's capabilities and performance?
Knowing the performance and capabilities of your firearm are also important before purchasing. A few things you might want to know include:
Bullet drop

Bullet or shot grouping

Magazine capacity
The bullet drop is the distance that a bullet drops after being fired over a certain distance — and largely a function of the cartridge the firearm is chambered for. Bullet drop is an important and potentially complex component of ballistics for gun owners for a variety of reasons, whether hunting, target shooting, etc. Discuss this aspect with your dealer. 
Bullet or shot grouping relates to the accuracy of the firearm. In short, it indicates how closely each round will hit in relation to each other. Tightness of shot groupings are measured based on the distance between each bullet hole on the target. Accuracy is not only important for target shooters and hunters, it's also important for self protection and other firearm uses.
Magazine capacity lets you know how many rounds of ammunition you have "on tap" in each magazine. Whether you are target practicing or firing your gun in self defense, it's important to know how many shots you have available before you need to reload.
What other questions do you like to ask yourself or the gun dealer before purchasing a new firearm? Leave a comment below.