Raptor Grip Gen 2 for the Mossberg 500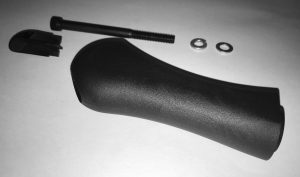 You asked for it. You got it. We have added a plug to the Raptor Grip for the Mossberg 500. This makes for a more attractive grip and aids in keeping dirt and debris away from the mounting bolt.
With this Gen 2, we also made improvements to the Raptor Grip, including how it fits the firearm's receiver and the shape of the mounting bolt hole. Find it here for the same great price.
(Note: Because the mounting bolt hole is a different shape than before, the new plug isn't compatible with the older style of Raptor Grip for the Mossberg 500.)