Shockwave now offers the Raptor Grip for the smaller 500E (.410) guns
MADE IN AMERICA. The new Mossberg 500e Raptor Grip, with its enhanced texture, you gain a great hold on your firearm. And its glass-filled polymer construction is virtually indestructible. On sale for a special price of $19.95.
Made of a super-tough glass-filled polymer.
Mossberg 500E .410 gauge firearms (aka 500E)
Mossberg 590E .410 gauge firearms (aka 590E)
As a result, the unique angle of the Raptor Grip minimizes felt recoil, allowing maximum control shot after shot. Also, Mounting hardware and bolt hole plug are included.

Furthermore, Mossberg 500E or 590E with a 14? barrel with our Raptor installed measures 26.5? in overall length.  The grip itself adds 5.25? to the length of the firearm (measured parallel to the bore). The Raptor will fit the .410 guns with 18.5?, 20?, and longer barrels.
Above all, there is no predefined hole for a sling swivel stud on the Raptor Grip M500E. This allows you to put your sling swivel wherever you want it on the grip–not just where we think it should go. Be sure to drill a 1/8? pilot hole.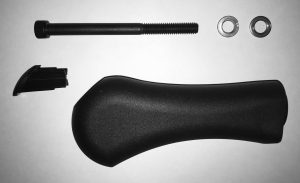 Available at the price of $19.95 click this link